Lumiflats
Lumiflats is the result of the meeting between two young architects from ANSKA Architecture and LUMICENE,
with a common vision on the need to rethink the habitat of tomorrow by focusing it around thein / out relationship .
This project aims to explore the architectural possibilities around LUMICENE, and to show how the integration of this concept can combine architecture and innovative uses.
Dynamic properties
"What we found interesting from the start is the dynamic properties of the product.
By simply sliding the pannels of LUMICENE, the configuration of the space is transformed. A natural relationship between inner and outer life is taking shape" . Stanimir Paparizov, Associate Architect at ANSKA Agency.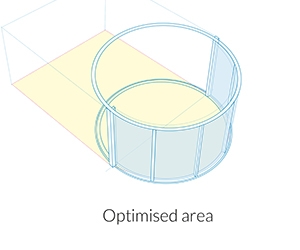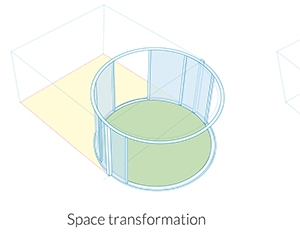 Volumetric integration work
"We started by exploring the different architectural and urban possibilities of the product,
then we synthesized them into several variants. Contrary to the first assumptions, we quickly found
that the product offered many possibilities, all very different.
Among them the treatment of angles, the creation of more or less complex systems,
modular solutions or organic forms. "






Façade integration
"We also explored the possibilities of integration on the facade, and quickly realized that many options were possible for LUMICENE to be fully integrated into the project. "
Prototypes
"We have simulated, tested and exchanged for weeks on variant plans, 3D volumes and computer graphics.
We have created several different languages, appropriate for different contexts.
The goal was not to make a finished project in the smallest detail, but rather to give the beginning
of a range of languages that are coherent, evolving and up-to-date. "
Modular Gardens
"Of the six variants tested, one proved to be a true
synthesis between an architect's approach and an industrial logic.
Based on an adaptable and scalable modular frame, the concept "Modular Gardens" is the one we decided to develop.
We chose to install the project in Lyon, on the Quai Rambaud bordering the Saone. "
Cells
"It was important for us not to lose sight with the original goal: to provide housing that will provide more comfort to their occupants.
That's why we did not give up on the plans.
The goal was to optimize them to the maximum, without being disconnected from reality,
particularly in terms of areas. "
Interior
"The goal is also to make you want to build this project,
we decided to design a Lumi Premi and a Lumi Plex.
This exceptional site offers a superb view where the in-out relationship is essential. "